COOTER'S CABINS & CAMPIN'

mailing address:

Cooter's Cabins & Campin'
&nbsp 137 Cooters Lane
Fayetteville, WV 25840


Toll Free:1-877-5CABINS (1-877-522-2467)
Locally:304-574-4002
or E-mail us: pooresr@gmail.com




If gps coordinates don't work, use 254 Cooters Lane. If that doesn't work try google map.

IF YOU LIKE QUIET, SECLUDED, RUSTIC CAMPING WE'RE THE PLACE.
WE'RE LOCATED 4 MILES FROM THE NEW RIVER GORGE BRIDGE
AND WITHIN 10 MILES OF MOST RAFTING COMPANIES.


CLOSE TO SHOPPING/RESTAURANTS,
RAFTING COMPANIES
CHILDREN/PETS WELCOME*
*PRE-TEEN CHILDREN CAMP FREE w/PARENT
AND DOGS MUST BE KEPT ON A LEASH ACCORDING TO LOCAL LEASH LAWS
CONVENIENT TO: HIKING, MOUNTAIN BIKE RENTALS, ROCK CLIMBING, HORSEBACK-RIDING, GOLF COURSE, ATV tours and
will be 20 minutes from Boy Scout Camp

links to things happening in the area:
Boy Scouts of America
Find your fire|Spartan
Wild Blue Adventure Company plane tours
Water Stone Outdoors
Bridge Day information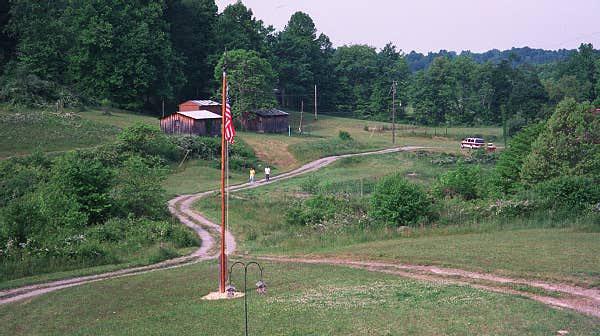 for group prices call Cooters for specials
RATES SUBJECT TO CHANGE FOR 2017 WE ARE SORRY, BUT DUE TO INCREASES IN EVERYTHING BUT AIR, WE HAVE TO RAISE OUR PRICES THIS YEAR ACCORDINGLY.
Cabin 1 is no longer in service. it is now the OFFICE
tent site: $10 per person/ per night
RV sites: $30 for first 2 people, $5 each over 2.
Cabins 4,5 (bunkhouse) and 6: $70. per night up to 4 people
additional people it's $10 more per person on all cabins.
Cabin 3 is out of service at this time.
Cabin 2:This cabin has a kitchenette, bathroom, now direct tv. $120. a night, up to 4 people, 5 or more is $10. more per person.
This cabin can also be equipped with a ramp for wheelchair patrons.
linens are supplied for cabins 4, 5 and 6. for a small fee.
all cabins are supplied refrigerators and jugs of water
and all have microwaves